On May 4th 2014 at Technipark was opened pilot co-working center.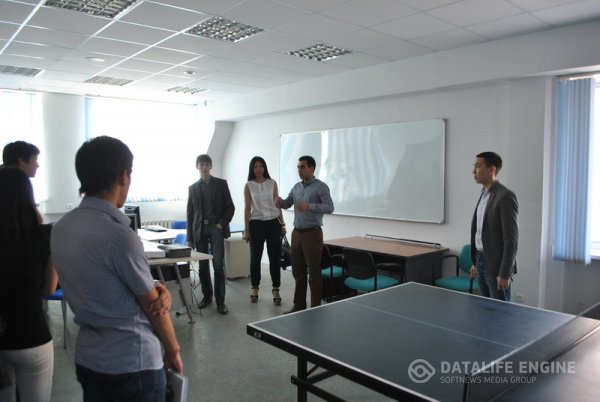 Modern world is proposing us new realities, new professions and new ways of working. One of them is named – co working.
Co working (from English – working in cooperation) – is a model of work where participants being independent and free, using general space for their activities.
In other words, co-working is special equipped work space offering for small payment a work place, access to internet, conference hall, negotiations room, tea/coffee and etc. And the space of co working is arranged so that to stimulate exchange of opinions and generation of ideas by conversation between employees unknown to each other from different companies, primarily from creative industry.
Co working means that people renting general area, staying at the same time independent and free. And no special limitations to the profession or status of participant, neither to parameters of space and society. Such offices are widely in demand non only among free lancers, but also companies, whose employees spread in different cities and countries, and among starting capital entrepreneurs, whose budget doesn't allow to buy commercial property.
Renters are having opportunity to work in comfortable conditions, to take part in interesting and perspective projects, trainings, to get acquainted and talk with likeminded people.
As method of formation of co working center using serendipity management – combination of principals and means of control for organizing corporate culture, working environment, process of company so that to increase level of creativity skills of employees and to improve possibility of "sudden", non planned discoveries. Main goals of serendipity management are:
Arrangement of space suitable for creativity
Provision of variety by collecting people from different fields of activitiesScope:
Provision of trustful relations between peopleEach specialist in co working center works on his own project and independent from anyone. They only share one space.
Co working ideally suits to freelancers, but not for those who needs communication and not willing to work alone. In result, a person works on his project and keeping communication with people having similar spirits. Such interesting approach to work suits for painters, designers, architects, web designers, programmers, freelancers, remote employees, translators, writers, lawyers, copyrighters, advertisers. Heads of companies as a rule here conducting their trainings, presentations, and negotiations.